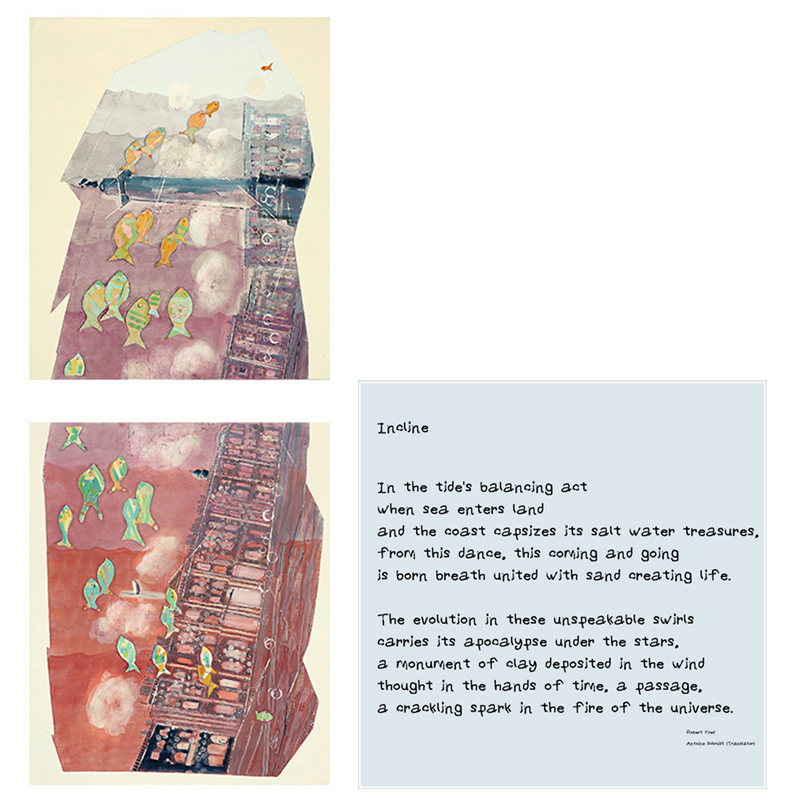 Posted on mars 7, 2022
Project Fish, Chris Wilmott, paintings, Robert Fred, poetry
Chris Wilmott
NEWS
World Water Day March 22nd
I Remember Water features Saint Petersburg and UK artist Chris Wilmott.
As part of World Water Day, March 22nd, The Water Museums Global Network has chosen to feature paintings by UK artist Chris Wilmott. Chris's work is inspired by climate science, rising oceans, flooding rivers, frolicking fish, the loss of heritage, our relationship with water and the impact of rising sea levels on the human condition. Chris merges Terrestrial and Undersea into Surrealism. Chris collaborates with Robert Fred from Geneva who writes poems about Chris's paintings.
One of the paintings selected for I Remember Water concerns Saint Petersburg, a rising Baltic Sea and a submerging Hermitage Museum. An unthinkable prospect, a metaphor for the unthinkable effects of changing climate. The Hermitage is a UNESCO World Heritage site.
The Saint Petersburg in question is that city in Russia. There are instances of other places with the same name: Saint Petersburg, Florida, USA, where might be imagined the future prospect of rising sea levels and a submerging Saint Petersburg. Only the names of the waters change: The Baltic Sea changes to the Gulf of Mexico. America's coastline is being assailed by rapidly encroaching oceans with up to 1 foot of sea level rise expected in the next 30 years, equalling the total rise of the last century. (Guardian 16 February 2022, NOAA 2022 Sea Level Rise Technical report.)
Also in the USA are Saint Petersburg, Pennsylvania, and Saint Petersburg Colorado. Whilst these places are a long way from the sea, or the Great Lakes, consequences might still flow from flooding rivers or changing rainfall patterns. Rising water and a submerging Saint Petersburg.
I Remember Water is a prestigious international event organised by the Water Museums Global Network, intended to build empathy and stimulate awareness supporting the wise and judicious use of our shared waters. We share oceans with Fish, says Chris. I Remember Water is a global digital exhibition, recalling our past water memories, our relationship with water, and the emotions water stirs. The highly experienced curating team for I Remember Water is Adams Clive, Curator, Art and Ecology, UK; Ahmed Sara, Living Waters Museum, India; Eulisse Eriberto, Director, WAMU-NET; Mesquita Mário João Freitas, Parque Patrimonial das Águas, Porto, Portugal.
https://www.worldwaterday.org/share-2022
NOTE: Chris can supply the World Water day logo and Guidelines